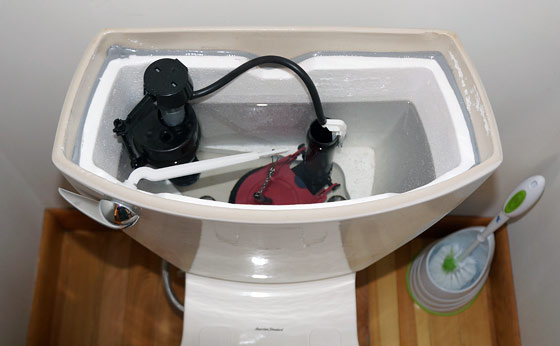 If you need to flush a toilet while the running water is off at home, here's how to do it, and what to watch out for.


First of all, if there is no running water at your home, it is probably because:
1. The water is shut off because someone in your home is working on a plumbing issue.
2. The water is off because of something that has happened beyond your household.
If the reason is the later, and if the outage is due to a major long lasting incident (electrical grid down – major storm, flooding, etc..) it may also eventually affect the sewage in your area depending on your geographical location with respect to the treatment plant and other factors.
Although the following tip will work (how-to flush a toilet without running water), there could be a much worse issue (during a major disaster) in that the sewage may begin to back up into people's homes without proper pumping and drainage of the municipal sewage treatment infrastructure (which requires electricity). While this is a worst case scenario, it's worth mentioning for your awareness.
Note: If you have a septic system, you have no worries in this regard (municipal sewage infrastructure failure) and can flush the toilet till your heart's content 😉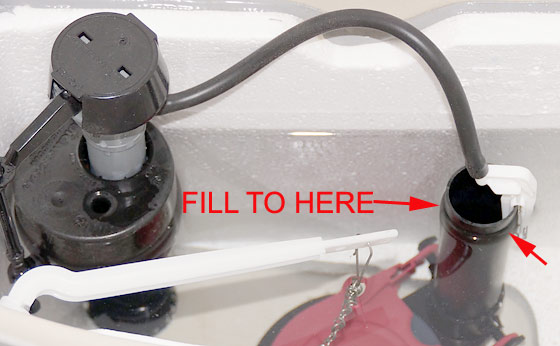 Having said that, under temporary water outage conditions, you can easily flush your own toilet. You will still need water, but you don't need running water (as in your house plumbing).
Remove the toilet tank reservoir lid.
If you have already flushed the toilet once since the running water stopped, the tank will be empty.
Use any bucket or container to fetch water from a nearby source (a swimming pool, a stream, pond, etc..) and fill the toilet tank up until the water almost reaches the top of the overflow tube as shown.
Note: Chance are that you won't have to fill the toilet tank all the way to the top of the tube. Experiment with less – enough to 'get the job done' (e.g. try 2/3 the way up).
Then flush the toilet!.
Note: Most modern efficient toilets only require about 1.5 gallons (or less) of water to flush the toilet effectively. Older toilets may require several gallons or more.

This is one of the important reasons why you should ALWAYS keep a supply of emergency water in your home. You can store water in purpose-made containers for long term storage, and use it as an emergency supply for drinking water or even for flushing your toilet 😉
For example, this container will get you between 2 and 4 flushes, depending on toilet:
Coleman 5-Gallon Water Carrier
This set of water bricks will get you between 12 and 22 flushes, depending on toilet:
Water Storage Containers – WaterBrick – 8 Pack

Related article: Practical Portable Drinking Water Storage
Related article: Water Barrel Storage For Emergencies.