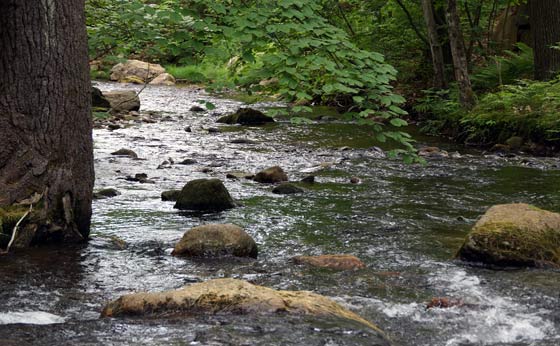 Of the many methods available to purify water for drinking, each have their own attributes and effectiveness. One method – water purification tablets, has been used for many decades with good results for those who are 'on the go', on the trail while traveling light.
Here's what's inside those tiny tablets, and how to make it taste better…

They're made of iodine. Each tablet contains 20 mg of Tetraglycine Hydroperiodide, which "liberates 8 mg of titratable iodine when released into water."
Within 30 minutes, the iodine will have penetrated the cell walls of microorganisms and will kill many of the most common pathogens in natural fresh water sources.
Carrying iodine for water purification is an imperfect but lightweight solution for those in need of field purification of drinking water.
Kits are available that include an iodine pill and a second pill (vitamin C or ascorbic acid) that will help remove some of the iodine taste from the water after it has been disinfected.
If you do add vitamin C, in the form of a pill or in flavored drink powders, it should not be added until the iodine has had sufficient time to work (30 minutes).
One iodine tablet will treat 2 cups of water while two tablets will treat one quart.
Once the bottle of tablets is opened, the apparent shelf life is 3 months.
The tablets are not intended for long terms use.

Water purification tablets are great to have when camping and traveling if you have equipment problems or when you're on the move and don't always have the time to make a fire, boil water, then wait for it to cool before drinking.
However it is important to have a basic plan for water beyond the iodine tablets. If you're backpacking and need to drink the local water, you should also consider taking a filtration system with you or boil the water.
Water purification tablets are a great backup to your overall water plan.