The First Cities To Be Nuked
What cities would be nuked first? Well, first, or as part of a "first wave", certainly a priority will include military targets. Although that's not the focus of this post (I'm just looking at "cities"), it is an important consideration!
[ Read: Some of the Military Targets to be Nuked ]
"… a list of United States military targets likely to be hit first compared with others. Although there are lots of military installations, the following military nuclear targets logically seem more likely than others to be on primary target lists."
After (or while) the primary military command & control have been nuked…
After (or while) all of the primary military command and control centers have been nuked (Military Nuclear Targets), have you ever wondered which cities would be nuked first?
It's an unpleasant thought! And is something that most people believe would never happen. Note that at one time between Russia and the United States alone, there were more than 20,000 nuclear warheads. Though apparently fewer these days, there are enough to destroy us all!
Not that long ago during the years of the Cuban missile crisis, every American feared the worst, while the U.S. and the USSR were seemingly ready to end the world as we know it…
Since then, stockpiles have been reduced somewhat, but in the big picture it is mostly irrelevant. If anything, the world is more dangerous today as radical nations add their own nuclear weapons to the world's nuclear arsenal.
[ Read: US Nuclear Target Map ]
"…based on a number of factors while looking at other maps and data including military installations, nuclear weapons storage and silo locations, bases, cities, etc.."
Depending on the engagement (who, what, and to what end), military and/or key infrastructure targets may likely be hit first, but it won't be long down the target list until major cities may be taken out.
In a worst case all-out nuclear engagement, we might consider that many or all cities could be hit, given the number of nukes that are available to countries like Russia and even China.
Top 30 Most Populated Cities
Regardless, most or many of us are at risk. However, a logical place to start the thought process may be this…
The following is a map highlighting the Top 30 most populated cities (and Metropolitan Statistical Areas – MSA) in the United States, followed by the population list for each.
The metro areas themselves are located in the middle of the yellow highlighted regions, and some of them overlap with the cities from the top-30 list (red).
The diameter of the colored regions simply represent a potential evacuation perimeter to escape nuclear fallout, although this will be widely variable depending on wind patterns, detonation (ground burst vs. air burst) and payload. It is a general indication to help visualize an exodus.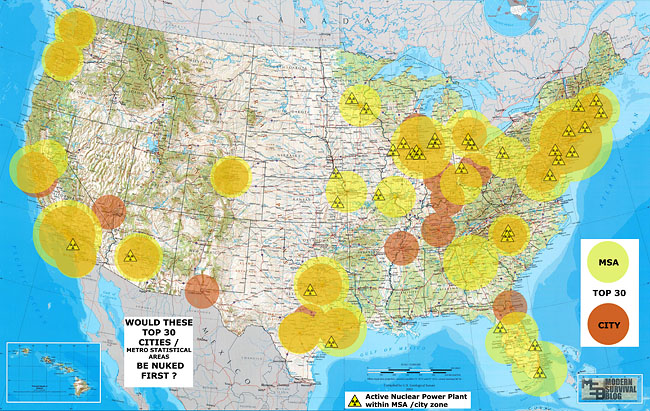 I have included the locations of any operating nuclear power plants that happen to be located within any of the MSA's and cities listed. They are highlighted for added risk assessment.
To see where all of the nuclear power plants are located within the United States, check here:
[ Read: US Nuclear Power Plant Locations & Live Wind Flow Map For 'Fallout' ]
 
IMPORTANT!
Protect your thyroid from nuclear fallout:
>> iOSAT Potassium Iodide Tablets, 130 mg (14 Tablets)
(view on amzn)
>> Nuclear War Survival Skills: Lifesaving Nuclear Facts and Self-Help Instructions
What Cities Would Be Nuked First?

CITY LIMITS POPULATION
1. New York (8,175,133)
2. Los Angeles (3,792,621)
3. Chicago (2,695,598)
4. Houston (2,099,451)
5. Philadelphia (1,526,006)
6. Phoenix (1,445,632)
7. San Antonio (1,327,407)
8. San Diego (1,307,402)
9. Dallas (1,197,816)
10. San Jose (945,942)
11. Jacksonville (821,784)
12. Indianapolis (820,445)
13. San Francisco (805,235)
14. Austin (790,390)
15. Columbus (787,033)
16. Fort Worth (741,206)
17. Charlotte (731,424)
18. Detroit (713,777)
19. El Paso (649,121)
20. Memphis (646,889)
21. Baltimore (620,961)
22. Boston (617,594)
23. Seattle (608,660)
24. Washington (601,723)
25. Nashville (601,222)
26. Denver (600,158)
27. Louisville (597,337)
28. Milwaukee (594,833)
29. Portland (583,776)
30. Las Vegas (583,756)
METRO AREAS (population – millions)
1. New York (19.6)
2. Los Angeles (12.8)
3. Chicago (9.5)
4. Dallas-Fort Worth (6.4)
5. Houston (5.9)
6. Philadelphia (5.9)
7. Washington (5.6)
8. Miami (5.6)
9. Atlanta (5.3)
10. Boston (4.6)
11. San Francisco (4.3)
12. Riverside (4.2)
13. Phoenix (4.2)
14. Detroit (4.2)
15. Seattle (3.4)
16. Minneapolis-St. Paul (3.3)
17. San Diego (3.1)
18. Tampa-St. Petersburg (2.8)
19. St. Louis (2.8)
20. Baltimore (2.7)
21. Denver (2.5)
22. Pittsburgh (2.4)
23. Charlotte (2.2)
24. Portland OR (2.2)
25. San Antonio (2.1)
26. Orlando (2.1)
27. Sacramento (2.1)
28. Cincinnati (2.1)
29. Cleveland (2.1)
30. Kansas City (2)
[ Read: 5 Nuclear Radiation Detector Choices ]