Vest Pockets for Everyday Carry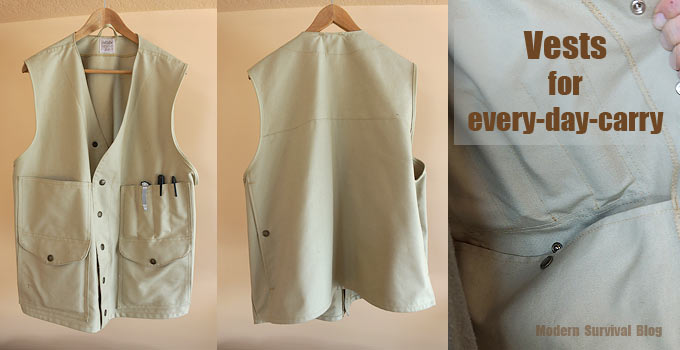 A few days ago I read a comment here on the blog from "Skeezix". I had been intending to write an article about a wearable vest with lots of pockets for everyday carry items, and she got me motivated to do it. Here's what she said:
Last year I started wearing the Uncle Miltie Travel Vest.
Rothco Uncle Milty Vest

It looks like a fisherman's vest and it replaced my purse. It didn't work out quite as well as I had hoped. The weight of it when loaded cut into the back of my neck. Strangers would comment, "Oh, you're a fisherman." Sometimes it would be a disparaging "A hunter, huh." It was bulky and downright ugly. I planned on sewing my own, keeping all the pockets on the inside.

Then I discovered and purchased the Scottevest. All the pockets are on the inside. The sleeves unzip and fit into a back pocket. When it is on, it feels weightless. There is no visible sign that all the pockets are stuffed.
SCOTTeVEST Women's Travel Vest – 18 Pockets

I had so much fun loading it up with: pocket knife, Cree mini flashlight with an extra battery, mini first aid kit, change purse, credit card wallet, Chapstick, hand sanitizer, pen, lighter, sun glasses, passport, comb and stationary stuff, coin tissues and keys. I still have room for my kindle and iPad, and water bottle. Wow!

From the outside it still looks like a regular old vest! I am now "hands free".
It is quite expensive. I used the money I was saving for the batteries for my solar system, but it was definitely worth it.
Vest Kit for Everyday Carry
Some years ago I bought a particular Filson vest (pictured above) with the intention of utilizing it's various pockets for everyday carry items. Convenience and preparedness wrapped into one.
The concept of a vest with a bunch of pockets can be fun to work with.
There is a wide variety to choose from!
Lots of different styles, pocket variations, pocket locations, inside/outside, sizes, and colors. Some insulated, some not.
Be careful though, it's easy to overload a vest with too much stuff!
It can become ridiculous ;)
Items to carry in vest pockets
Oh my. This is a personal preference for everyone.
I can tell you that when I do wear this vest, I tailor it to what I'm likely to be doing.
There are enough pockets and hidden pouches inside and across the back that I could stuff it full. I don't do that though because then it just gets uncomfortable! If it's too uncomfortable then I'm less likely to wear it!
My Basic Vest
From what you can see in the picture, I carry at least a minimum of items (and some you can't see because their in the pockets).
In the four upper left vest pockets I insert the following:
– BIC Lighter
– Pocket knife w/clip
– Streamlight Stylus Pro Penlight w/clip (this one)

– Fisher Space Pen w/clip (this one)
In another pocket I also always include:
– Notepad w/protective cover
Related articles to the items listed above:
A Small Bullet Space Pen For Everyday Carry
The Best Pocket Knife Is The One You're Carrying
Best Pocket Carry Flashlight For Under 30 Dollars
The rest of the vest pockets and what goes inside them will depend on what I might be doing or gearing up for. So it changes.
Some Items Are In Other Kits
If I'm out away from home with my truck, I do have a 72 hour kit in there with additional preps that I could access if I needed to.
When I'm out on the trails on my ATV or snowmobile, I have some kit contained within each of those too.
If I'm planning a relatively short day hike I will take along a Versipack with kit inside.
So as you can begin to see, the vest and it's pocket contents become more of an EDC convenience more than anything…
Exceptions:
That said, if I were to go anywhere in someone else's vehicle – or – any other means of transportation other than my own, I would not be able to rely on my truck kit. So whatever I have on me would be all there is…
If I had to rely on 'just' my vest pockets & pouches, and pants pockets, etc.., then it would become a bit more of a challenge – depending on where I'm going or what I plan to do (and for how long).
Therefore there's no right or wrong list of vest pocket goodies.
Vest Pocket Challenges
– Never enough pockets?
– Size & Shape of pockets / pouches
– Not to overload
– Physical size of items
– Weight of items
– The necessity value (or lack thereof) of items
– Practicality of usage
– Concealment?
– Comfort

Similar to putting together an emergency kit, 72 hour kit, or bug out bag, it can be fun to piece together a "Vest kit", if you will…
Anyone else out there have a Vest set up?
Thoughts?