Without Electricity (Level 1 Prepping & Preparedness)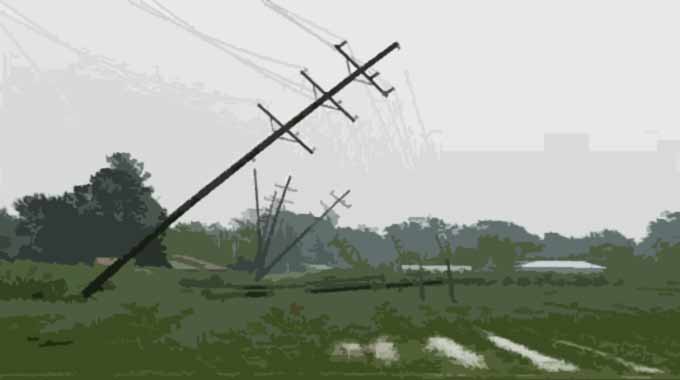 Being without electricity for a few hours is no big deal, right? Well maybe it isn't too much of a problem if the power outage only lasts a few hours. But when it drags on into the day (or longer), then you will certainly have some issues to deal with.
When you really think about it, our modern way of life is hinged on the availability of electricity – the grid!
Now imagine the possibility of being without electricity for up to one week (Level-1 Preparedness). Let me explain how to get through it:

First of all, this is Level-1 preparedness and a temporary power outage is not the end of the world. So we're only going to address some of the disruptive aspects of a power outage.
What Will You Miss When The Power Goes Out?
No Internet
One of the first things people will miss when the power goes out is their internet connection. The home's WiFi router will no longer be enabling connection to the internet for any of the computers or "smart" devices that normally connect.
That said, most people do have a data plan to go along with their cell phone plan, so if the power outage isn't terribly wide reaching then the towers will still be operational. This may enable you to contact others if needed.
Note: Text messaging often works even when cell towers are busy.
I think we can all survive without the internet for awhile, and besides, this is Level-1 preparedness (1 week or less) so no big deal… although today's kids may go through internet withdrawal…
No TV
Most people watch way too much TV anyway. The point is that this form of 'Entertainment' (or news gathering) will be down. A highly recommended prep in this department is a battery operated portable radio.
I have written a number of articles about portable radios including these:
Best Cheap Portable Radio For AM/FM
Best AM Radio For DX Long Range Listening
3 Best Emergency Radios For Around 50 Bucks…
The Kitchen Without Electricity
For a short term power outage lasting just a few hours, no big deal. If it drags on into a day or longer, there will definitely be some concerns regarding the kitchen.
-Refrigerator
-Freezer
-Cooking
-Coffee!
Without Electricity: Refrigerator & Freezer
Okay, so you know the refrigerator will warm up pretty quick without electricity. Your best course of action will be to consume the foods that you're keeping in there first. This will minimize waste.
The freezer that's part of your refrigerator will keep the foods frozen probably for 24 hours. So don't open the freezer unless you're taking something out.
If you have a chest freezer, they are typically insulated better than a refrigerator freezer. This may sound funny, but drape blankets over your chest freezer for even more insulation during a power outage expected to last longer than just a few hours. Your chest freezer may keep things frozen for several days this way.
After that, if the outage is ongoing, it will be time to start eating that freezer food.
I have two chest freezers and I rely on this set of wireless thermometers (they have a temperature alarm) to monitor for problems. It would be very helpful during a power outage to know the internal temperature without opening the freezer.
Wireless Refrigerator / Freezer Thermometer Alarm
Without Electricity: Cooking
As you know, not all foods need to be cooked to eat. Canned foods for example can be eaten without cooking because they have already been safely processed. Do you have a good manual can opener?
That said, your options will include your barbecue grill. I keep several extra tanks in reserve. Not only do I NOT want to run out during a BBQ, but having extra will go a long way towards cooking without electricity.
A camp stove is a great option too. It's more suited for cooking with pots and pans.
Coleman 2-Burner Propane Stove
Without Electricity: Coffee!
Given that it's not the end of the world for Level-1 preparedness, it might be if you're a coffee drinker…
This is what you're going to need (I have one for just in case). A coffee percolator.
Farberware Classic Stainless Steel 8-Cup Coffee Percolator
Lights Out!
Although the novel with the same name was a great read, if the power outage drags into the night and beyond, you're going to need an adequate supply of flashlights and light sources.
You probably already have a flashlight or two at home, but do you have extra batteries? That's important! Check your inventory and do what you need to do…
I also have two of the following LED Lanterns which are a great light source. I wrote an article about it several years ago:
LED Lantern For Survival Preparedness
Another thing you can do is buy some of those cheap yard landscaping solar lights. You can take them in at night and have light! Then recharge the next day outside…
A Generator
Whenever there is a situation resulting in power outage longer than several hours, there is always a run on generators. Don't let it be you. Perhaps it's a smart thing to pick one up now before you might ever need it and they're all sold out.
Remember that talk about the refrigerator and freezer? Well with a generator you could run it for an hour or two every so often and keep that fridge and freezer nice and cold…
There are all sorts of generators out there. Those that are less expensive are generally LOUD and don't provide "clean" power. That said, most of them will do in a pinch. You can pay lots of money for a quiet generator too.
Although not for everyone due to cost, one of the best in that department is the Yamaha generators. Super quiet, and clean power.
Do you have spare gas for the generator? How much do you have? That's another thing that sells out quick during a longer lasting power outage.
Speaking of which, it's important (very important) too treat your gas for long term storage. Here's an article I wrote about it awhile ago:

CONCLUSION
While our modern lives are very much disrupted without electricity, you can easily get through a relatively short term power outage with a few preparations. Hopefully this has helped get you thinking about it.
Related article: Prepping and Preparedness 1 – 4 (Overview)
Related article: Prepping and Preparedness 1 -Overview