Door Security Bar – Significant Extra Layer Of Protection
A door security bar. Yes they work! It's a simple, easy, effective way to help secure your front door (or any door)! I have two of them. One each for the front and back doors.
Not that I'm particularly concerned about a security threat at my present home location, one never knows for sure, right? Since it's ridiculously easy to use, it has become habit to place it under the door knobs every evening.
[ Having used these for many years, I'm updating and republishing this information for the sake of your own security – given the world we live in today.. ]
What Is A Door Security Bar and How Does It Work
A door security bar works just as logically as it looks. Increasing resistance from the doorknob to the floor – the harder someone pushes or kicks on it from the outside.
It's simply an adjustable metal bar (usually aluminum or steel) that slips under the doorknob to resist a forced entry through your front door, or any door. More details on the adjustments below…
This is one of two that I have owned for many years, setting against my back door.
Master Lock – Adjustable
(view on amzn)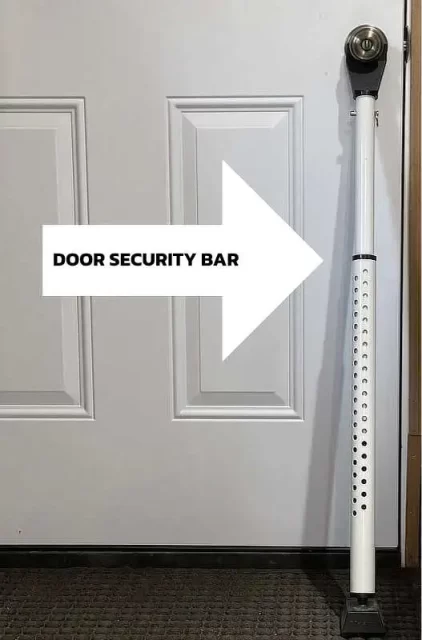 The security bar provides peace of mind, especially while sleeping at night!
It significantly reduces the chance of a successful break-in.
The bar takes just a few seconds to tuck it in place (it doesn't have to be jammed under the knob). And it is a very easy habit to get into using every night before you go to bed (or whenever).
How Burglars Get In
In the U.S. there are about two million home burglaries every year.
Most burglars break in right through the front door!
Do door security bars work? A front door security bar will stop that from happening in most every case (works on any door). If they try to pick the lock, and if they're able to do it, that door won't open because the bar provides significant resistance. Are they going to start smashing the door to get in? Probably not. They'll move on elsewhere. Even if they do, at least you've got plenty of warning – given the noise!
Door Security Bar Review
Door Security Bar Specifications (Master Lock – most popular)
Adjusts from 27.5″ to 42″
Removable top piece for sliding doors
Pivoting Padded Foot (strong grip on floor)
Steel, 20 gauge
2.2 pounds, easy to use
Works on carpet or smooth floors
How To Use the Door Security Bar
The #1 feature that I like: It's so quick & easy to use!
After initial adjustment (you only need to do it one time to get it right), the door security bar will slip under the door handle in just a few seconds.
Removal is just as easy. No need to "jam" it under the doorknob. You don't need it to be too tight under the knob/handle. Slightly loose fitting is fine. Snug is good.
If/when there's a forced entry, that slight 'slack' will be immediately taken up as the bar does it's job.
WHY IT'S SO EASY TO USE Because you don't have to jam it real tight under the door handle. There's nothing to attach. Simply tuck it underneath the doorknob. Done.
It's habit. Every single night I place a door security bar underneath the doorknob of my front door and back door. When not in use, I lean it against the wall next to the door.
Adjust Height and Angle To Floor
The height of the security bar is adjustable based on the door knob/handle height.
The bar will initially need to be adjusted to fit the height of your own doorknob relative to the security bar's angle to the floor.
You want to adjust the distance of the bar's padded foot to door at about 12 – 18 inches. It's not super critical. The angle simply provides the opposing force against someone trying to push in the door.
The security bar has a push pin (as you can see in the photo) that enables incremental adjustment to get the right height.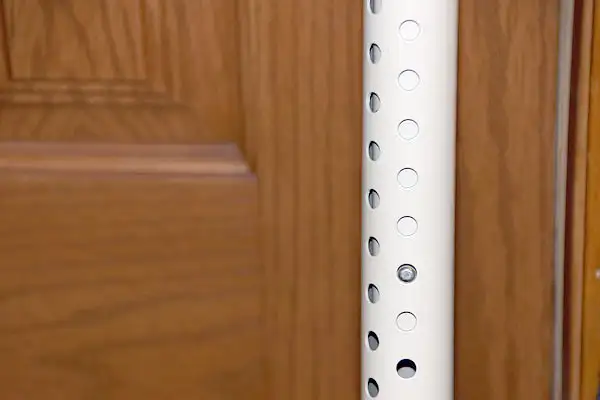 Heavy Duty Door Stopper Yoke Fits Under Doorknob
The piece that fits underneath the doorknob is heavy duty. It's part of the upper portion of the door security bar. It's pinned in place.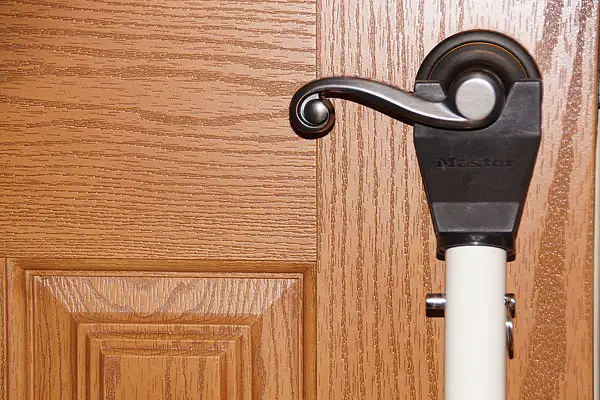 Tip: It's NOT necessary to be tight against the doorknob handle. Just comfortably snug. You don't want to damage your door knob…
This Door Security Bar Also Works on a Sliding Door
It also works on sliding doors by simply removing the upper yoke (the part that fits under the door know). Set it along the bottom of the non-opening side of the slider and adjust the rod to the proper length.
There are a few different brands & models of the door security bar. The Master Lock shown here is not expensive. It is quite reasonably priced. And very popular.
While I am confident in the performance of the Master Lock Bar, I also own a stronger and much heavier bar (brand: Buddybar), although it does cost more:
Security Door Brace 1750 lbs Forced-Entry Protection
(view on amzn)
I reviewed it here:
[ Read: Buddybar Door Jammer Review ]
Home Security Layered Advantage
Let's face it, today's world is filled with security risks.
Sleep better at night with the peace of mind knowing that your doors are secured with an extra layer of protection.
If someone tries to pick your door lock in the middle of the night (and succeeds), this door security bar will greatly reduce the ability to get in.
The noise and commotion that would result from the attempts at kicking in the door (with the bar in place) would surely be enough to wake you up and give you the time to take action.

[ Read: 10 Things to do when a Stranger Knocks on your Door ]