7 Mistakes That Burglars Love You To Make…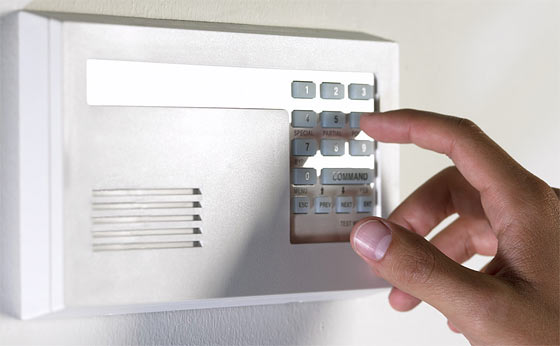 Each year, more than 2 million homes are breached by burglars – a burglary every 15 seconds.
There are many mistakes that a home burglar would love you to make.
Here are a few of them:
LEAVING THE BURGLAR ALARM SYSTEM OFF
For those who have a home burglar alarm system, all too often it is not activated when running out for on a quick errand. You may be surprised that the majority of houses robbed do have alarm systems – and more than half the time the alarm system is not turned on and activated.
UNLOCKED BACK DOOR
The back door of a home is often not as secure as the front door, and may even be unlocked — and burglars know it. Do not overlook the back door. Secure it the same way as you would the front door. When you're going out, be sure to think of (and lock) the back door when you leave.
Tip: I use these on both my front and back doors at night:
Master Lock Security Bar
HIDING VALUABLES IN THE BEDROOM
The first place that burglars often look is in the bedroom. The underwear drawer, sock drawer, all dresser drawers, the bedside table, under the mattress, high closet shelves, etc.. Find other places to hide your valuables. Note that burglars almost never go through kids rooms… (hint).

More mistakes (tips) that a burglar hopes that you make…

WINDOWS COMPLETELY BLOCKED WITH LANDSCAPING
Tall bushes and shrubs give burglars the privacy they need to work on opening windows without being seen. Keep all bushes trimmed to below window level.
LEAVING LIGHTS ON ALL THE TIME WHEN AWAY
A light that is always on when you're away (either inside or outside) is a signal to burglars that you are away from home. Use outdoor motion lights (these are the best)
for nighttime burglar deterrence. Utilize timers connected to indoor lights for a "lived in" look, or other clever burglar deterrents such as the shimmering lights emanating from a TV (FakeTV)
to appear as though you're home.
Related Article: "Fake TV" Review
Related Article: The Best Outdoor Motion Detector Light Review
HAVING MAIL DELIVERY STOPPED
If you trust your neighbor, it is better to have them pick up your mail than having mail delivery stopped while you are away. You may trust your mail carriers, but the fact is that you don't know who else is getting the information. So keep your plans quiet when possible.
BROADCASTING YOUR PLANS ON SOCIAL MEDIA
With today's wide use of social media, it is tempting to tell all your 'friends' that you're going out and/or broadcast your pictures and experiences while you are away. Be cautious though that your circle of 'friends' on social media may have expanded well beyond your real friends – and you don't know who all may be getting that information. Keep it quiet…

Related Article: 21 Things Your Burglar Won't Tell You