Preparedness Items To Bring When Traveling In Your Car Or Truck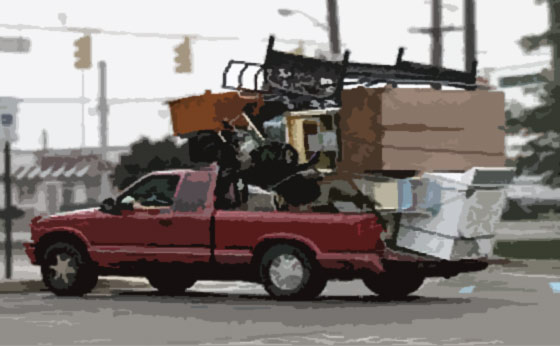 Recently having traveled several hundred miles to visit some friends and family for a number of overnight's, I thought that I would reflect back upon the preparedness 'prep' items that I took along in the truck.
While I did not take 'the kitchen sink', I did bring along a few extra things for 'just in case'.

Firstly, the reason(s) that I keep some preparedness items in the vehicle is because I realize that there are many hypothetical scenarios whereby I might need any one of them. Just like we all carry a spare tire, I also keep 'preparedness insurance' items for situations which may disrupt my trip.
Secondly, without 'overthinking' what to bring, I simply used a bit of practical common sense and applied a few variables such as the current season (in this instance… late Fall, early Winter), the weather forecast, and the distance of our destination from home.
Thirdly, I always keep my fuel tank closer to FULL than EMPTY. Additionally, when reaching or nearing my destination, I always fill-er-up.
Basic Emergency Kit
I always carry some sort of 72-hour emergency kit in the vehicle. Once in awhile I go through the kit and adjust what's inside. I keep the 'stuff' in a backpack – which would assist if I had to walk out (or just need it).
You might be wondering, what 'stuff' is in my backpack at this particular moment, so let me go out to the truck and get it, and I'll let you know. Hang on a minute – I'll be right back…
Okay I'm back (did I mention it's cold outside?)
– roll of TP, in a Ziploc bag
– hand towel
– LifeStraw water filter
– Camelbak UV water purifier
– First Aid Kit (DIY in Ziploc bag)
– Mylar Emergency Blanket (2)
– Chainmate pocket chain saw
– Bandanna
– Paracord (about 20′)
– Compass
– Whistle
– P51 Shelby Can Opener
– Knife (Cold Steel Recon 1)
– Flashlight
– Fire-starter Kit in Ziploc bag which includes:
—— BIC lighters (2)
—— Waterproof matches
—— Magnesium fire-starter tool
—— Magnifying glass
—— Votive candle
—— Cotton balls smushed with Vaseline (a few)
—— Kindling fire stick (several inches)
Note: Like I said, I am occasionally adjusting this simple car kit – sometimes a bit 'over-the-top' and other times a more efficient pack.
Food For 72 Hours
I always keep enough food in the truck to supply Mrs.J and I for 72 hours. This may seem like overdoing it, but given that it's a relatively simple thing – I just do it. You might be wondering what food I have in the truck right now. Alright then – hang on and I will go back out and have another look…
Note: I target 2000 calories per day per person.
Note: I adjust winter food storage vs. summer (freezing temp considerations, shelf life, etc..)
– 3 bricks of DATREX bars, double vacuum packed (3 x 18 bars x 200 calories = 10,800)
– 12 MRE's with heaters (apprx. 3600 calories)
– Ziploc bag full of 'food bars' (apprx. 2000 calories)
– fork and spoon (for civilized eating ;) )
Seasonal Clothing
Depending on the season, I bring along a 'more than adequate' set of outerwear in case I am forced to deal with the elements of mother nature. On this trip, although the weather was not forecast to be especially wintery or cold, I brought along our winter jackets due to the seasonal possibilities.
– Winter Jackets
– Hiking Boots
Other Prep Items – Always In The Truck
There are other random items that I always keep in the truck that fall into the category of preparedness. I will list them as follows…
– First Aid Kit general kit, iOSAT, pain relievers, QuikClot
– Stainless Steel drinking water bottles (several 80%, filled accommodates freezing expansion)
– During non-winter months, I keep more water on-board
– Another Knife (fixed blade, full tang)
– Winter Hats, Winter Gloves
– Work gloves
– 2-way radios (GMRS/FRS)
– handheld CB radio
– Flashlight (larger than the backpack light)
– Quality Rain Poncho (2)
– Fleece Blanket (2)
– Tarp (a few)
– Rope
– Road Atlas of my state and surrounding states
– National Road Atlas
– 'the Next Exit' (excellent traveling resource)
– Pen, Pencil, and Paper (small notepad)
– GPS
– Phone charger
When traveling, I always carry extra cash than I normally would.

Okay, that was the quick run-down.
I'm sure if I dug around inside the truck some more – I would find more items to add to this list, but it's cold outside and I don't feel like going back outside ;)
Hopefully this article will inspire some of you to have a look at what YOU keep in your vehicle for preparedness, and the next time you go on a trip – to think about bringing along a few extra items for 'just in case'.