All American Sun Oven Solar Cooker 10+ Years Later
I enjoy experimenting with harnessing energy from the sun. I have built several solar cooker ovens over the years, and I also purchased one, the All American Sun Oven.
I'm updating this post because I just realized that this solar cooker is more than 10 years old! I don't remember exactly what year I bought the All American Sun Oven. But I believe it was sometime during 2008. That makes it about 13 years old. And you know what? It still functions like new, despite the nicks and scratches over time. I did varnish the wood trim a few times to help preserve that part.
I've had the SUN OVEN for many years. First bought it while living in a part of California where the sun shines all summer long. Because of that, we were able to use the All American Sun Oven quite often!
Now, many years later, we live in New Hampshire. Not as sunny all the time. But we still get to use it.
Some of you might be wondering how often you can actually use a solar oven when it's not always sunny… Well, certainly not as much. It obviously depends on the weather and clouds.
Even on partly cloudy days, you really need a day when there's more sun than clouds. However, maybe surprising, but this All American Sun Oven is very efficient and will warm up / heat up nicely when there's just enough sun…
Incredibly, the SUN OVEN can heat up to temperatures as high as 350 to 400 Degrees Fahrenheit! (Yes, you read that right!)
Bake Foods
Boil Foods
Steam Foods
Boil Water
Slow Cook
Safe
Portable — Folds up, About 20 lbs.
Well Constructed
Why I Bought The All American Sun Oven
So, why did I buy it? Good question! It is expensive (even back when I purchased it). I justified the purchase for preparedness sake, coupled with enough days during the year to actually use it. Cooking without electricity (and/or fossil fuels) was appealing. Kind of a self-sufficiency thing…
During years past, I have built several solar cookers too. It was fun to do. Then I bought this one. At the time, it was branded as "SUN OVEN". Though today it's called the All American Sun Oven.
I felt that the SUN OVEN will be good for use at home anytime on sunny days (weather permitting). It would also be good for camping (especially where open fires may not be allowed). And, it will provide a means of cooking during a power outage (particularly useful during a longer term grid-down!). A side benefit during summer would be cooking outside (less heat inside the house).
The SUN OVEN has been a reliable and HOT cooker during the many years I've had it. My homemade solar cooker does not get as hot, but high temperature doesn't really matter when it comes to slow cooking most foods.
Made in the USA.
The Ultimate Solar Appliance
(view on amzn)
SUN OVEN Cooking Temperature
Yes, the SUN OVEN can achieve high cooking temperatures under ideal conditions. By the way, it has a built in Thermometer.
However, I believe that a lot of people have it in their head that food must be cooked at 350 degrees in the oven, because it's the most referenced temperature in recipe books for oven cooked foods.
But guess what… so long as the internal temperature of most foods is heated to 165 degrees, then it becomes safe to eat.
For example, a solar cooker that maintains 225 degrees for a long enough time, will easily cook the food up to 165 degrees. Of course, the higher the temperature of the solar cooker, the faster your food will reach 165 degrees.
When I lived in sunny California, my homemade solar cooker had a hard time getting hot enough during the winter months when the sun was lower in the sky, and obviously colder outside. Whereas the All American Sun Oven does much, much better because it's more efficient at capturing the sun's rays and keeping the heat inside (insulation).

Hot Tip
————————–
For those of you starting out with solar cooker cooking, I want to tell you one of the secrets to getting even more deliciousness out of many meals, especially baked potatoes. OK, here it is… add some water to the pan, and keep the pan covered. Simple! Of course, spice it up to your delight.
————————–
Great for baking potatoes. Again, add water into the pan, and cover it. Oh boy, does that taste good!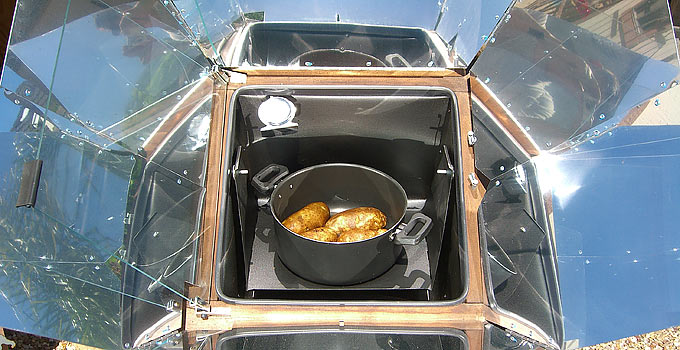 Use as a Slow Cooker / Crock-Pot
Since solar cookers generally cook slower than a conventional oven, a long slow cook at say about 275, combined with a bit of added water in the pot for the food to draw in, will turn out scrumptious!
The food won't burn (it generally doesn't get hot enough to burn) and won't overcook. The SUN OVEN is well insulated and cooks very evenly on its tray.
Side note: The tray is a "spill-proof levelator". Regardless of angle (it also has a built in adjustable leg for setting the angle towards the sun), the tray inside remains level. Nice feature!!
"Don't be afraid to experiment. It's almost impossible to burn food in a SUN OVEN. Food doesn't dry out, so it's very difficult to screw anything up. When in doubt, cook longer." said the manufacturer.
What about cooking on a cloudy day?
Well, my experience is that no solar oven will work well during heavy overcast, or very cloudy days. And most won't even work reliably during partly cloudy days (depending). However, unlike other solar ovens which require full sunlight, the SUN OVEN works incredibly well, even on partly cloudy days.
It's thick glass and well-designed seal gasket keeps the heat in (as well as the insulation).
A Few More Examples Using Our SUN OVEN
We also used our All American Sun Oven to slow cook beans throughout the day.
[ Read: How To Cook Dried Beans With A Solar Oven ]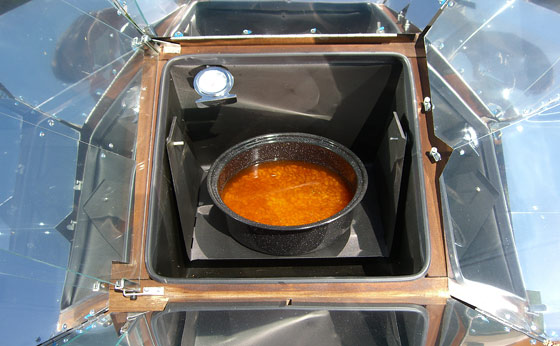 Bake your own homemade bread too!
[ Read: What Happened One Time That I Made Solar Oven Bread ]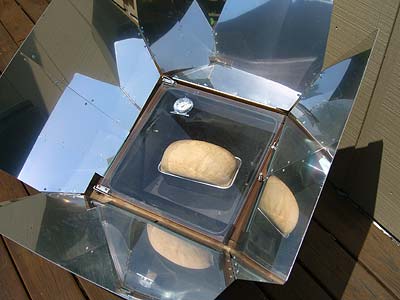 Cooking Sweet Potatoes in the Solar Cooker: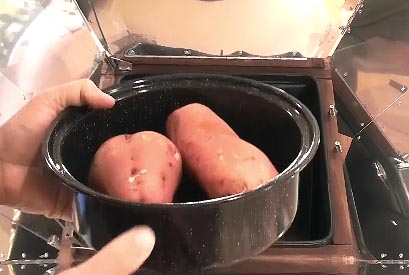 For long cooked meals, to maintain a high enough temperature may require that you rotate the solar cooker a few times during the cooking process to keep facing the sun.
During the summer months when the sun is high in the sky, rotating the solar cooker repeatedly to face the sun is generally not required (unless you're really trying to optimize temperatures).
During the Spring, Fall, and Winter when the sun is lower in the sky, you will probably need to keep up with it.
One problem during months when the sun is low in the sky is that more obstacles will get in the way and shade an area. So, unless you have a fairly wide open space, surrounding trees will become an issue.
I updated this post, given that it's summer time, and I have my All American Sun Oven out on the deck, ready for some solar cooking!