Colonial Pipeline Cyber Attack Exposes Critical Infrastructure Vulnerability
The Colonial Pipeline runs from Texas to New Jersey and transports 45 percent of the East Coast's fuel supply.
Until… Cyber Attack – Largest Assault on US Energy Infrastructure in History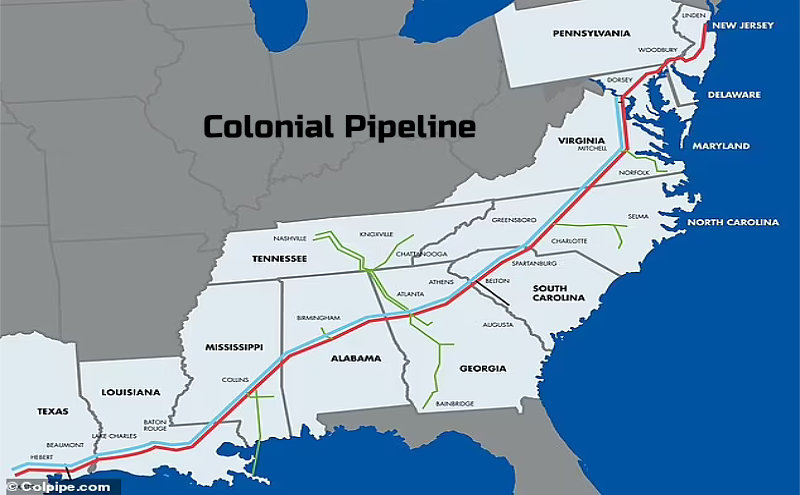 The U.S. East Coast is losing around 1.2 million barrels a day of gasoline supply due to the shut down resulting from cyber attack.
Gas station pumps are running dry on day five of the Colonial Pipeline cyber attack.
Cars are lining up outside gas stations in parts of the east coast and across the South. Gas shortages are popping up all over the place…
Many gas stations from Florida to Virginia have closed their pumps.
Evidently the fuel crisis is so bad in North Carolina, their governor has declared a state of emergency.
Oh, and, the pipeline also serves Atlanta's airport – the world's busiest by passengers. Whoops…
Oh, and, the pipeline also serves 90 U.S. military installations and 26 oil refineries.
Panic Buying
"The real panic has yet to begin as millions of Americans are waking up for work, hopping into their vehicle across the Southeast, and are hearing fuel shortages on the radio or reading push notifications on their phone. Driving down the street, they see rising fuel prices, signs at pumps that either read shortage or pump restrictions, or even see some gas stations closed."

~ zerohedge
I think that most of us know what happens when people notice shortages. Panic buying. And this gas shortage is no different…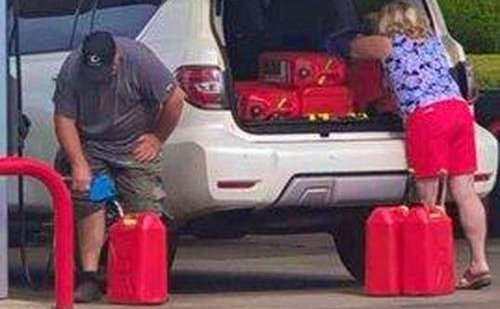 Colonial said it was working to 'substantially' resume operations by the end of this week. 'Substantially', whatever that means…
Critical Infrastructure – Juicy Targets For Cyber Attacks
This is a perfect example of the many systemic risks that I sometimes write about. You've never heard of the Colonial Pipeline before. No one knew that this one pipeline supplies 45% of the East Coast fuel supply. At least no one knew until this cyber attack…
For your interest, here's a map of gas pipelines across the United States:
Gas Transmission and Hazardous Liquid Pipelines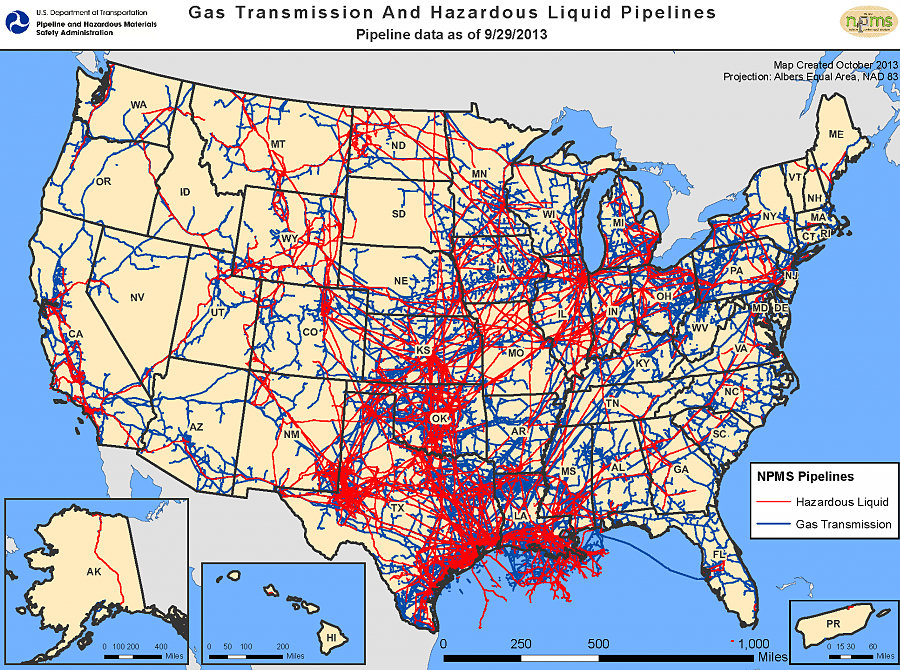 Normalcy bias. Everything's humming along smoothly. Not a thought in the world about how it all happens. It's just magic. There's always gas at the gas station. Duh… Right?
Hackers are increasingly attempting to infiltrate essential services and critical infrastructure.
How many times have we talked about the electrical grid here? (for example)
As preparedness-minded individuals, we need to be aware of the many underlying systemic risks to our modern way of life. Although most of us are vulnerable to these risks (because they're integrated into our daily lives), awareness can make some difference. Motivation for some extent of mitigation.
[ Read: How To Fix New Gas Cans So They Actually Pour Right ]
[ Read: The complicated web of reliance that we have on sources of energy to keep the system going – and the systemic risks that are certainly built-in ]
UPDATE: Um, hopefully this is not your neighbor! It never ceases to amaze me how absolutely DUMB so many people are!! Here's a "gas hoarding" photo. Someone with gasoline in plastic bags in their trunk! Complete lunacy.
When people get desperate they stop thinking clearly. Or perhaps never could think clearly at all…