---
Top 100 High ORAC Value Antioxidant Foods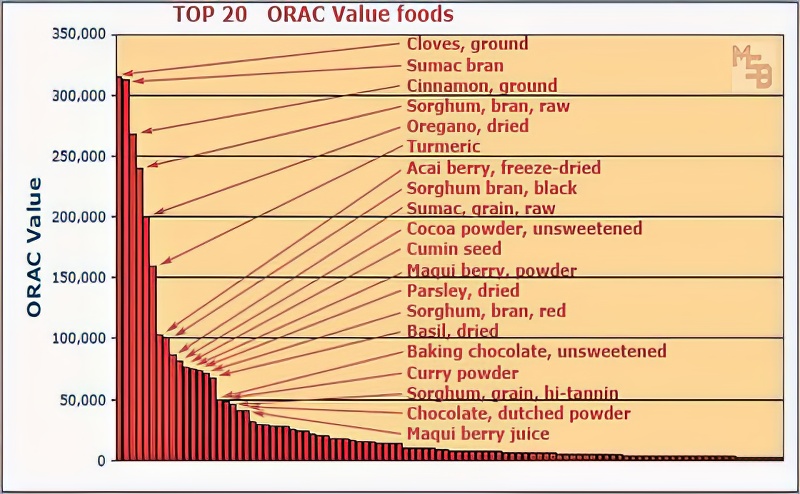 The following foods and spices are rated by ORAC value. ORAC is an abbreviation for Oxygen Radical Absorbance Capacity and was developed by the National Institutes of Health in Baltimore. In short, ORAC units measure the antioxidant capacity of foods. The higher, the better. High antioxidant foods help greatly to lower the risks of cancer, degeneration, and disease.
Most of us have heard at one time or another that blueberries are highly beneficial to ones health. Do you know that there are about 60 foods and spices that are apparently even better (better meaning… higher ORAC value)? In fact, the top 20 ORAC value foods stand significantly higher than the rest (even though "the rest" are really good for you too)!

40,000 ORAC Units Per Serving – Superfood Powder

Have a look at the following list of food and spices (data sourced from the US Department of Agriculture), and consider making a conscious effort to obtain and consume more of them in your normal diet. Ones health is paramount to survival!
The USDA recommends an ORAC unit ingestion of about 3000 to 5000 units daily. The ORAC values of a certain food can differ due to growing conditions, processing conditions, and variety.
ORAC values are listed as (µmol TE/100g) (micromol Trolox Equivalent per 100 grams). Trolox equivalency is used as a benchmark for the antioxidant capacity.

ORAC Value Top 20 list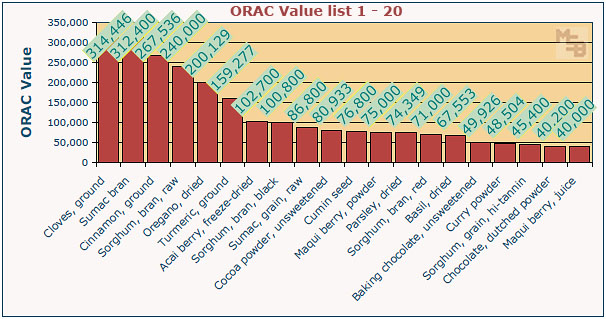 ORAC Value list 21 – 40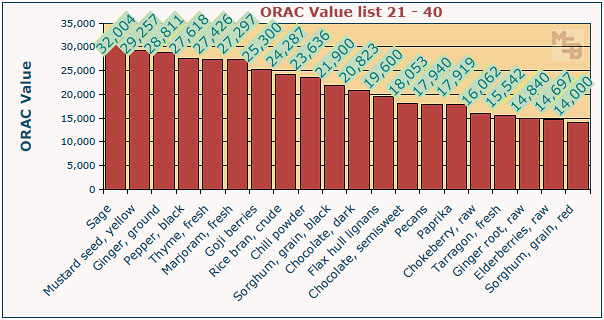 ORAC Value list 41 – 60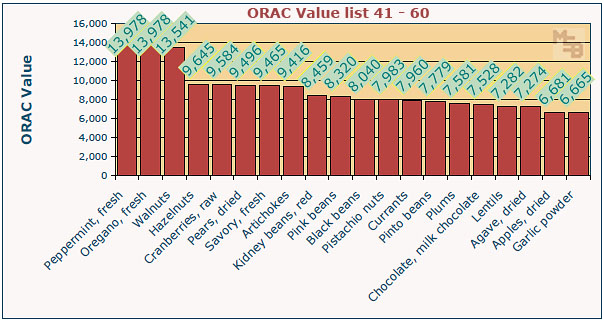 ORAC Value list 61 – 80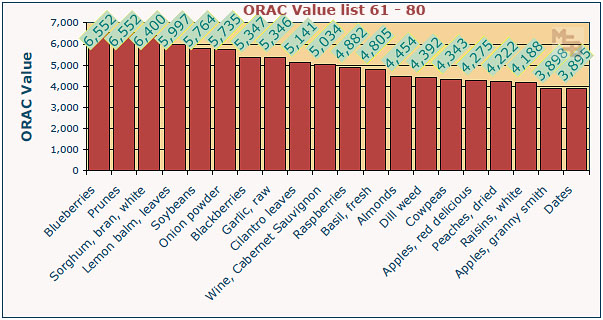 ORAC Value list 81 – 100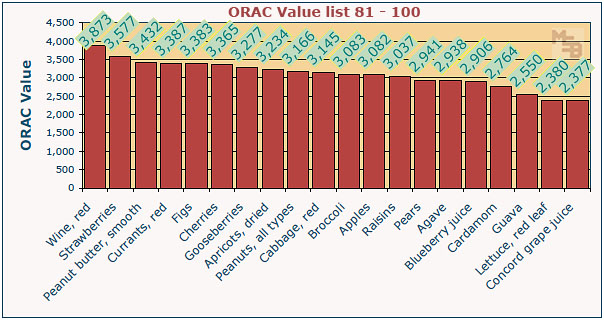 ORAC Value list, Top 100
| | | |
| --- | --- | --- |
| 1 | Cloves, ground | 314,446 |
| 2 | Sumac bran | 312,400 |
| 3 | Cinnamon, ground | 267,536 |
| 4 | Sorghum, bran, raw | 240,000 |
| 5 | Oregano, dried | 200,129 |
| 6 | Turmeric, ground | 159,277 |
| 7 | Acai berry, freeze-dried | 102,700 |
| 8 | Sorghum, bran, black | 100,800 |
| 9 | Sumac, grain, raw | 86,800 |
| 10 | Cocoa powder, unsweetened | 80,933 |
| 11 | Cumin seed | 76,800 |
| 12 | Maqui berry, powder | 75,000 |
| 13 | Parsley, dried | 74,349 |
| 14 | Sorghum, bran, red | 71,000 |
| 15 | Basil, dried | 67,553 |
| 16 | Baking chocolate, unsweetened | 49,926 |
| 17 | Curry powder | 48,504 |
| 18 | Sorghum, grain, hi-tannin | 45,400 |
| 19 | Chocolate, dutched powder | 40,200 |
| 20 | Maqui berry, juice | 40,000 |
| 21 | Sage | 32,004 |
| 22 | Mustard seed, yellow | 29,257 |
| 23 | Ginger, ground | 28,811 |
| 24 | Pepper, black | 27,618 |
| 25 | Thyme, fresh | 27,426 |
| 26 | Marjoram, fresh | 27,297 |
| 27 | Goji berries | 25,300 |
| 28 | Rice bran, crude | 24,287 |
| 29 | Chili powder | 23,636 |
| 30 | Sorghum, grain, black | 21,900 |
| 31 | Chocolate, dark | 20,823 |
| 32 | Flax hull lignans | 19,600 |
| 33 | Chocolate, semisweet | 18,053 |
| 34 | Pecans | 17,940 |
| 35 | Paprika | 17,919 |
| 36 | Chokeberry, raw | 16,062 |
| 37 | Tarragon, fresh | 15,542 |
| 38 | Ginger root, raw | 14,840 |
| 39 | Elderberries, raw | 14,697 |
| 40 | Sorghum, grain, red | 14,000 |
| 41 | Peppermint, fresh | 13,978 |
| 42 | Oregano, fresh | 13,978 |
| 43 | Walnuts | 13,541 |
| 44 | Hazelnuts | 9,645 |
| 45 | Cranberries, raw | 9,584 |
| 46 | Pears, dried | 9,496 |
| 47 | Savory, fresh | 9,465 |
| 48 | Artichokes | 9,416 |
| 49 | Kidney beans, red | 8,459 |
| 50 | Pink beans | 8,320 |
| 51 | Black beans | 8,040 |
| 52 | Pistachio nuts | 7,983 |
| 53 | Currants | 7,960 |
| 54 | Pinto beans | 7,779 |
| 55 | Plums | 7,581 |
| 56 | Chocolate, milk chocolate | 7,528 |
| 57 | Lentils | 7,282 |
| 58 | Agave, dried | 7,274 |
| 59 | Apples, dried | 6,681 |
| 60 | Garlic powder | 6,665 |
| 61 | Blueberries | 6,552 |
| 62 | Prunes | 6,552 |
| 63 | Sorghum, bran, white | 6,400 |
| 64 | Lemon balm, leaves | 5,997 |
| 65 | Soybeans | 5,764 |
| 66 | Onion powder | 5,735 |
| 67 | Blackberries | 5,347 |
| 68 | Garlic, raw | 5,346 |
| 69 | Cilantro leaves | 5,141 |
| 70 | Wine, Cabernet Sauvignon | 5,034 |
| 71 | Raspberries | 4,882 |
| 72 | Basil, fresh | 4,805 |
| 73 | Almonds | 4,454 |
| 74 | Dill weed | 4,392 |
| 75 | Cowpeas | 4,343 |
| 76 | Apples, red delicious | 4,275 |
| 77 | Peaches, dried | 4,222 |
| 78 | Raisins, white | 4,188 |
| 79 | Apples, granny smith | 3,898 |
| 80 | Dates | 3,895 |
| 81 | Wine, red | 3,873 |
| 82 | Strawberries | 3,577 |
| 83 | Peanut butter, smooth | 3,432 |
| 84 | Currants, red | 3,387 |
| 85 | Figs | 3,383 |
| 86 | Cherries | 3,365 |
| 87 | Gooseberries | 3,277 |
| 88 | Apricots, dried | 3,234 |
| 89 | Peanuts, all types | 3,166 |
| 90 | Cabbage, red | 3,145 |
| 91 | Broccoli | 3,083 |
| 92 | Apples | 3,082 |
| 93 | Raisins | 3,037 |
| 94 | Pears | 2,941 |
| 95 | Agave | 2,938 |
| 96 | Blueberry juice | 2,906 |
| 97 | Cardamom | 2,764 |
| 98 | Guava | 2,550 |
| 99 | Lettuce, red leaf | 2,380 |
| 100 | Concord grape juice | 2,377 |