Round Out Your Long Term Food Storage After Basic Goods Are Laid In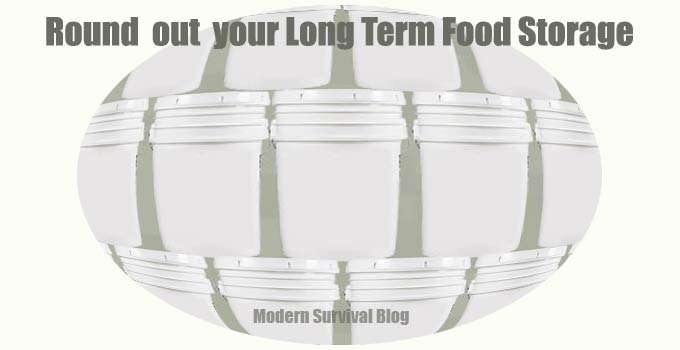 "Once you have the basic dry goods laid in, how should you approach the rest: meats, vegetables, vitamins, i.e. the things that help round out the diet." ?
That's an excellent question and one that should inspire some good comments!
For long term preparedness there is often focus on dry goods and foods that are specifically processed for long shelf life (rice & beans, freeze dried, #10 cans of 'xyz', etc..). That's all good! (and important).
But what about rounding one's food storage (for the long term) but with other items that will complement the diet?
Who wants to eat just rice and beans when you're in SHTF mode and digging into your long term inventory?
Common Dry Goods for Long Term Storage include:
– Rice
– Dry Beans
– Wheat berries & flour
– Pasta
– Sugar
– Oats
– Salt
– Dry Milk
– Freeze Dried Meats & Veggies
Poll results:
Survival Food Most Common In Preppers Deep Pantry Storage
Common Canned Meats for Long Term Food Storage include:
– Canned Chicken Breast (Kirkland Chicken Breast)
– Canned Beef (Keystone Ground Beef)
– SPAM (Related: "SPAM! For Food Storage")
– Canned Ham (Hormel Smoked Ham)
– Canned Pork (Swanson Pulled Pork)
– Canned Tuna (Bumble Bee Solid White Tuna)
– Canned Salmon (Wild Pink Salmon)
Canned Food For Your Deep Pantry
Do it yourself Home Canning is popular among the preparedness minded! The sky's the limit as to what you might can at home yourself.
Home Canning Tips And Lessons Learned
Additional Complements for Long Term Storage
Any other complements? I have a variety of articles here on MSB that touch on this.
How Much Protein In Your Deep Pantry?
However lets approach it anew. What are some of the additional complementary items to include in one's overall "long term" food storage inventory?
Complementary Items That Will Store Well Enough
Vitamins
One thing that immediately comes to mind is VITAMINS.
A good MultiVitamin and Vitamin C are two the come to mind as being especially important. Some of the better choices include:
Centrum Silver – Men
Centrum Silver – Women
Nature Made Multi Complete
NOW Vitamin C-1000 Sustained Release
Salt & Pepper!
If I only were able to have a few complements for my food, they would include salt & pepper. They will enhance just about any bland food that you might have!
We buy our pepper as peppercorns. We use a pepper grinder (actually a salt & pepper grinder set). That way the freshness is maintained right up until you grind it. Much better that way.
This is what we use:
Salt and Pepper Grinder Set
Love this particular salt (fine grain works well in the grinder)
Sherpa Pink Gourmet Himalayan Salt – Fine Grain
Herbs & Spices
Choosing herbs and spices to keep long term is a matter of preference and taste.
Most of you surely have a spice rack or spice drawer with a number of typical size grocery store spice jars of your choice.
However I suggest that you consider getting some BULK of your favorites. We purchase bulk (sealed bags or larger sealed containers) of the spices that we regularly consume.
You get a much better price that way too, and you'll have plenty on the shelf.
A few examples:
Garlic Powder – Bulk
What others would you bulk up on?
Dairy Substitute
If you raise cows and chickens, you're probably all set. For those that don't, you might consider adding some dairy for rounding out your long term food storage.
Do you have any preferences for long term dairy?
Other Areas To Round Out Long Term Food Storage?
The thoughts above are meant to get the wheels turning.
What other areas having to do with rounding out your long term food storage once you've already set back your dry goods and other such common items?