---
US Nuclear Target Map
Since we've recently been talking about Iran, Israel, the Middle East, China, Russia, the US, nukes, WW-III…
Out of curiosity I searched for maps that would reveal nuclear weapon targets in the US.
Not that it will make much of a difference to most of you, but it may be interesting to have a look at your own location in relation to the various nuclear target maps, to see how you would fare.
iOSAT Potassium Iodide Tablets
The various maps are from various sources, and I cannot vouch for any of them. However, using the logic that the average of the various maps may be somewhat close to the actual reality, I decided to copy several maps so you could interpolate for yourself.
The last map is of my own doing, which indicates several very general regions where it looks to me to be safer (notice I didn't say 'safe') than others based on staring at the nuclear target maps listed here.
A few of the maps take in to account the prevailing wind patterns (a very important factor), and I weighted them more highly.
Israeli Gas Mask w/ Nato Filter
In any event, I thought you might find it interesting…
Oh, and there is no way I would want to be living near the three large zones in Montana, North Dakota, and the corner of Wyoming-Nebraska-Colorado (indicated on the first map) where there are evidently numerous nuclear missile silos.
For most, I'm sure it's a bit strange or odd to even imagine or think about a nuclear war while looking at these maps. But the fact is, it remains a possibility, even though we hope that it is a very remote possibility due to the fact that there is something called 'mutually assured destruction' in which an attacking nation would likely be destroyed itself.
RADStickerTM peel & stick
The approximate world score…
12,000 (Russia)
9,400 (USA)
300 (France)
240 (China)
225 (UK)
90 (Pakistan)
80 (India)
80 (Israel)
10 (N. Korea)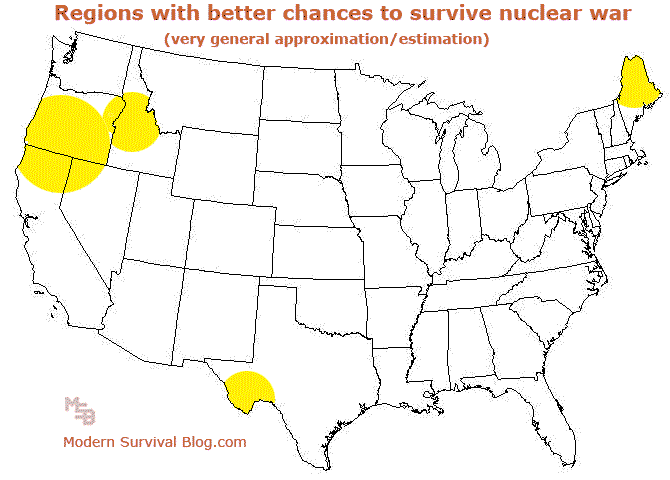 Be Prepared. If you enjoyed this, or topics of current events risk awareness and survival preparedness, click here to check out our current homepage articles…