Last updated on January 12th, 2014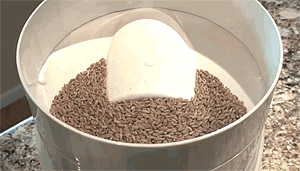 Making your own wheat bread from scratch can be so much healthier than processed bread. You will control and know every ingredient that goes into making a loaf, without any of those unpronounceable ingredients listed on store-bought loaves… 
There are countless bread recipes to discover. Here is one basic wheat bread recipe that I make now and again. 
Wheat Bread Recipe Ingredients
3 cups freshly milled whole wheat flour
1 egg
1/2 cup warm water
1/3 cup milk
2 Tbsp. butter
3 Tbsp. sugar
1 Tbsp. vital wheat gluten
1 tsp. salt
1 Tbsp. yeast
If you are using a bread machine (or mixing by hand), add the liquids first, then the dry ingredients, adding the yeast last.
If mixing by hand, knead until soft and elastic (approx. 15 mins.).
Cover and let rise until doubled (about an hour).
After the first rise, punch dough down slowly, releasing the gases.
Place in a greased loaf pan, cover and let rise again.
A bread machine can do all of the work for you including the actual baking of the bread. 
I sometimes take mine out of the bread machine after the first rise (there's a setting for that), then let it rise a second time in my own loaf pan (and then bake it in my oven instead).  The only reason for this is simply the bread's 'shape' of the loaf pan versus the 'shape' of the bread made in my old bread machine.
Bake in a 350 degree oven until done (apprx. 30 to 40 minutes depending…).