RFID Tracking Chip In Your Drivers Licenses and Clothes?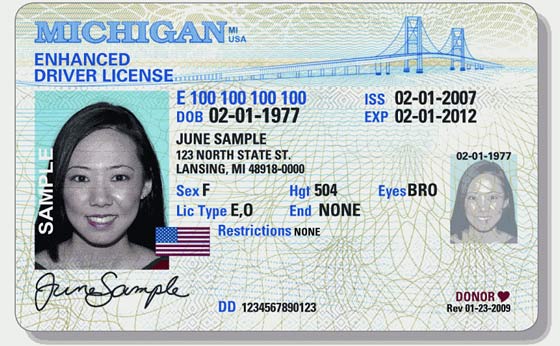 Image: michigan.gov
There is a billion dollar 'RFID' industry that probably has tracker 'bugs' all around you right now, and you may not even know it…
Radio Frequency Identification (RFID): What is it? and Why should I care?


Radio Frequency Identification (RFID) technology uses radio waves to identify objects or even people. Basically there are three parts of the system…
1. A wireless 'tag' (chip) (bug?) which is affixed to the item/thing/(or person?).
2. A device that reads the information contained within the wireless 'tag'.
3. A database which contains the cross-referenced information that is related to the 'tag'.
The RFID tag can be 'read' from a distance without making any physical contact or requiring a line of sight.
RFID technology has been commercially available in one form or another since the 1970s, but has advanced since then and is now part of our daily lives. It can be found in many areas including car keys, employee identification badges, clothing inventory and countless other retail items, medical history/billing, highway toll tags, security access cards, pet ID implants, passports, credit cards, and now even in some state license plates and drivers licenses!
There are two basic RFID technologies…
1. Vicinity RFID-enabled items can be accurately read by readers from up to 20 to 30 feet away (apparently some even up to 60 – 70 feet).
2. Proximity RFID-enabled items must be scanned in close proximity to a reader and can only be read from a few inches away.

By having an RFID chip in your highway toll tag, or your credit card, or your drivers license, or on your license plate, means that 'they' (whoever they are) can watch/track you if they want, whenever they want.
While most people may assume that 'they' are simply using this tracking information for your (and their) own convenience or benefit or security, the truth is that there are potentially nefarious uses of this data by the implementing entities themselves — or hackers — or even the government NSA or DHS.
The Department of Homeland Security is in favor of the RFID program and has been pushing for wider use of the technology, especially for new 'enhanced' drivers licenses which contains data and an individualized number that traces back to the federal government's file containing all your 'source documents'.
Enhanced Drivers Licenses: What Are They?
"State-issued enhanced drivers licenses (EDLs) provide proof of identity and U.S. citizenship…include technology that makes travel easier…in addition to serving as a permit to drive."

"Multiple cards can be read at a distance and simultaneously with vicinity RFID technology, allowing an entire car full of people to be processed at once."

-DHS
There are apparently four states with RFID in their citizens' drivers' licenses, Vermont, New York, Michigan, and Washington state which link the RFID data to a national database being run by the Department of Homeland Security that includes the photos of each ID holder among other things…
New initiatives for RFID drivers' licenses are popping up around the country, such as in Texas, where HB3199 directs Texas DPS to collect personal information and biometric data of Texans' at the time of drivers license application, and to maintain this data in an electronic database. The bill also directs Texas DPS to embed an "integrated circuit chip" (RFID chip) in these individuals' drivers licenses and/or personal identification cards. This RFID chip would be machine readable, allowing 'authorities' or a person with an RFID reader and decryption savviness to gain access to this information.
I believe that there are other state initiatives including in Florida and Missouri (perhaps others as well) while California recently rejected a bill which would have introduced RFID to drivers' licenses.
Much of this is apparently (currently) optional with regards to an EDL, probably at least until there is wider acceptance (or ignorance).
Step 1. "The RFID chip is not part of the standard driver's license or ID card. It is only in the enhanced license and ID, which are entirely optional. Customers are not required to purchase an enhanced license or ID if they prefer the standard version." (Michigan)
Step 2. Mandatory.

This is apparently just the beginning of utilizing this technology for tracking you…
"There are two things you really don't want to tag, clothing and identity documents, and ironically that's where we are seeing adoption," said Katherine Albrecht, founder of a group called 'Consumers Against Supermarket Privacy Invasion and Numbering'. "…there are a lot of corporate marketers who are interested in tracking people as they walk sales floors."
Several retailers, including Walmart, J.C. Penney and Bloomingdale's, have begun experimenting with smart ID tags on clothing.
Where will it all lead?
Why don't you tell me…