Preparing for a Winter Snowstorm – Basic Supplies for Power Outage
Here are a few basic supplies that you may want on-hand for 'survival mode' during a winter snowstorm and associated power outage situation. These are very minimal considerations. But they at least should provide some comfort and peace-of-mind. This will hopefully get you thinking about other supplies too.
Preparing For A Snowstorm – Important Supplies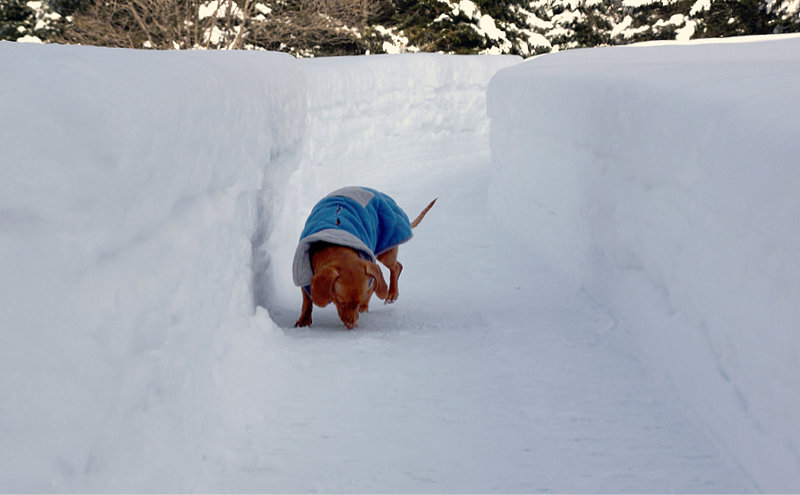 Having lived in the northeast (New England – currently New Hampshire), I certainly know about winter snowstorms. Surely many of you also live in regions where you get snow during winter.
The thing is, a winter snowstorm can be dangerous. Instead, lets make it tolerable. Even cozy. In my opinion, there's nothing quite like watching a raging snowstorm through the window of a warm cozy home. I'm sort of a weather geek, so I find it, well, 'fun'…
A winter snowstorm will cause especially bad problems when:
The snow is heavy and wet as opposed to light and fluffy
Snowstorm is accompanied by high winds
Sleet or Ice accumulation anytime during the event
If the snow is anywhere near 'heavy and wet', watch out below! Down come the branches… It's even worse if the snowstorm is during the late Fall season with leaves still on the trees!
Anyway, I've experienced snowstorms with many feet of light and fluffy snow in a single event without any bad repercussions. On the other hand, it doesn't take too terribly much 'wet and heavy' snow (or ice) to bring down power lines. The worst is a snowstorm that dumps a foot of heavy wet snow. Why? Because it's wicked heavy! You're about guaranteed to lose power as trees and tree limbs come down over power lines. And it might take a long time before crews get to your neighborhood.
Supplies For Power Outage In Winter – Hunker Down…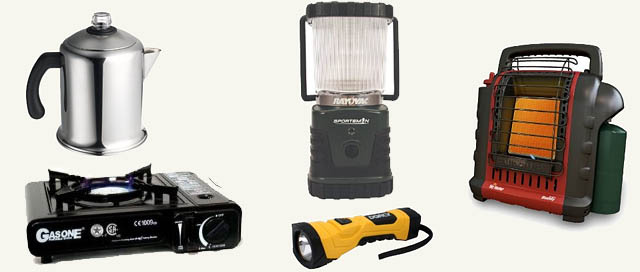 Priorities, right? I could list pages of supplies. However, lets focus on the priorities here.
Here are some higher concerns for a snowstorm situation accompanied with a power outage
Heat and staying warm (it's winter, so I assume it's cold outside)
Water (if you have well water, otherwise you're fine on municipal)
Emergency Lighting
Food (should be a no-brainer)
Ability to Cook some food, percolate some coffee, make hot chocolate!
Portable Radio for weather and news
Heat – Keep House Warm During Winter Snowstorm Power Outage
This reminds me of a winter snowstorm event not long ago in Texas that devastated the area and caught millions of people off-guard. Snow and Ice. It was so bad that the power was out for weeks in many places. And it was very cold outside! The storm was an unusual event for that region. But, it happens. People were desperate to keep their house warm. They were even burning furniture in their fireplace (if they had one). So, how to mitigate that?
Generator
First thought – a generator. At least a portable generator powerful enough to run your furnace, fridge, freezer, and well pump (if you have one). Bear in mind that most all well pumps require 240 volts, so you will need a 240 volt generator output (so, know that when choosing one).
Portable Generator
Minimal setup is simply running an extension cord from a portable generator that you haul out of the garage and place outside. It may be easy to simply plug in ordinary appliances. However, you may have to get a bit more creative to jack it into your furnace (depending on your furnace). If you know electricity and you're a do-it-yourselfer, it's not that difficult. However, consult an electrician if you need to – who will probably recommend the suggestion in the following paragraph.
[ Read: Best Extension Cord For Generator | Heavy Duty Gauge Recommendation ]
[ Read: Cold Weather Extension Cord That Stays Flexible & Won't Crack ]
Generator with a Transfer Switch Kit (multiple circuits)
Next level up is installing a transfer-switch kit for an outside generator to selectively power electrical circuits of your choosing from your utility electrical panel. Here's an example of a 6-circuit transfer switch for a generator up to 7500 watts. I installed one of these at my dad's house a number of years ago…
Reliance Controls 30 Amp 6-circuit Pro/Tran
(view on amzn)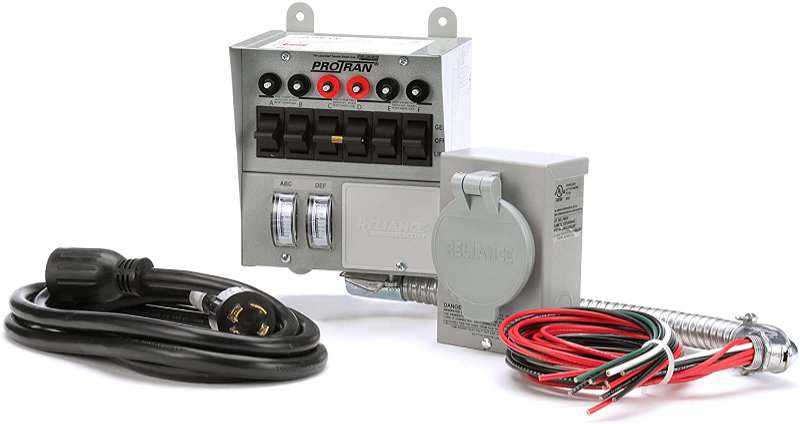 Whole House Generator
A 'whole house' standby generator. This is obviously expensive, and you need a big generator. These typically will automatically come on when the power goes out, and obviously, power the 'whole house'. I believe the most popular brand in this arena is Generac.
Buddy Heater
A propane space heater. The Buddy Heater brand is extremely popular for a portable space heater. I've had one for years. It won't keep your whole house heated, but it will do a decent job in a room. The bigger model will heat more space.
4,000-9,000-BTU Indoor-Safe Portable Radiant Heater
(view on amzn)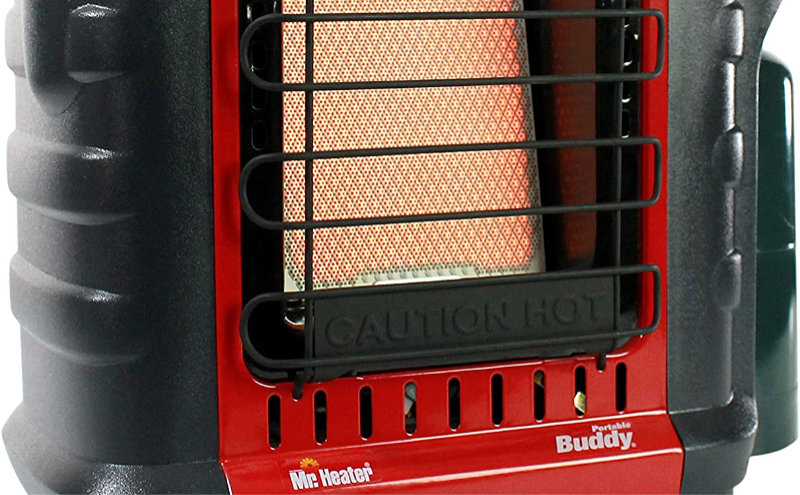 During the winter, the immediate concern will be heat. This particular heater will safely and effectively provide plenty of heat for a room. You will have bigger problems if the outdoor temperature remains consistently below freezing while at the same time the power outage lasts much longer than a day (pipes will begin to freeze and may rupture), but this heater will provide a first level of defense for a short term survival situation.
[ Read: Buddy Heater Run Time | 1-lb & 20-lb Tanks ]
Wood Stove – Pellet Stove – Fireplace
You either have one or more of them, or you don't. But if you do, then always keep an adequate supply of wood or pellets! No doubt you already do (have a good supply) if you normally heat (or supplement heat) your home with a wood or pellet stove.
However, if you have a fireplace, chances are it's for 'looks'. And you may not have any, or hardly any wood 'fuel' for it. Maybe a good idea to have some more on hand? Just know that an ordinary fireplace is not an efficient way to heat. Lots of heat from the room/house gets sucked up the flu. But it's better than nothing! It will put out radiant heat.
[ Read: Fireplace Reflectors Improve Wood Burning Heat Efficiency ]
[ Read: How to Run a Pellet Stove During a Power Outage ]
Oh, IMPORTANT! Please make sure you have at least one carbon monoxide detector in your home (battery operated!). I've been using this one which powers from the AC outlet AND battery power backup:
First Alert Dual-Power Plug-In Carbon Monoxide Detector
(view on amzn)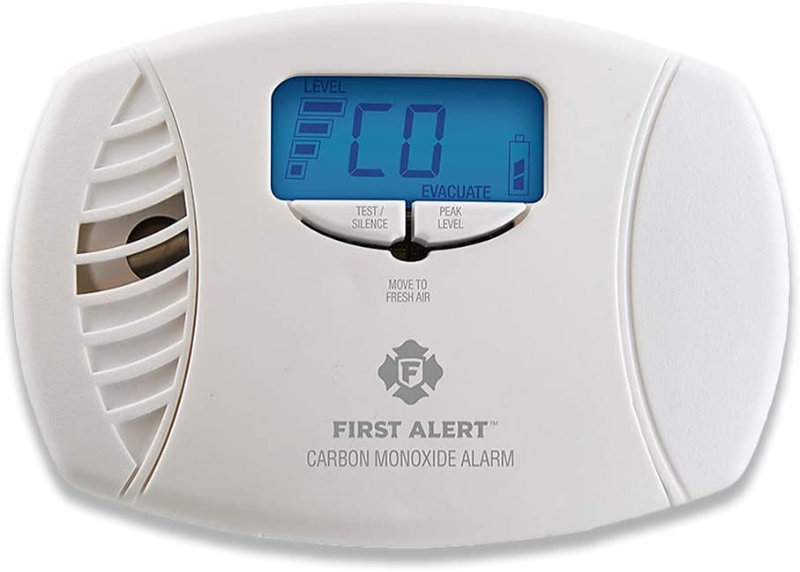 [ Read: Carbon Monoxide Poisoning Symptoms ]
Warm Blankets – Enough of Them For Everyone
If you can't get your house as warm as you want it (no power), warm blankets will be pretty important. Sure, you could keep wearing a warm jacket and warm clothes. But it will sure help to sleep at night if everyone had a warm blanket. Or, for cozying in a chair…
Wool or Fleece? Either is good.
[ Read: Warmest Blanket Material For Winter — Fleece vs Wool ]
Water
So, if your water source is simply from 'the street', your municipal water supply will be fine during most any short or mid-length power outage. The city/town is equipped to handle power outages and keep the pumps running.
However, if you're on a well pump (like I am), then you need to come up with a plan. Most well pumps are 240 volt. So, a generator with a 240 volt output. It could be integrated into your grid box via a transfer switch as exemplified above.
Additionally, especially if you have a well, you should always keep a supply of extra water above ground. Maybe a 55 gallon drum? That's what I do…plus some smaller jugs for storage and transport of potable water.
[ Read: 55 Gallon Water Storage Barrel | How-to Clean & Store For Emergency ]
[ Read about: Aqua-Tainer 7 Gallon Water Containers ]
Emergency Lighting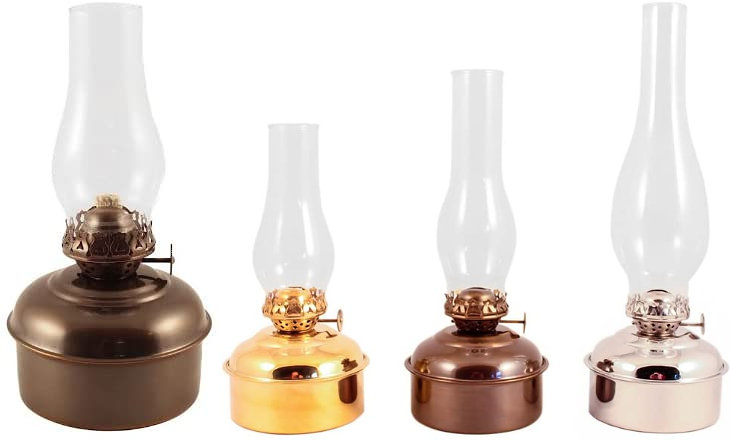 You've got options here…
Each bullet point is associated with an article on the blog:
Another tip is to use landscape solar lights. Simply set them outside during the day for a charge, and then use them at night inside.
[ Read: Charge AA Batteries – And More – With A Portable Solar Panel ]
Food For 2 Weeks
Again, referencing that snowstorm in Texas that left people without power for weeks (and that's just one example of many!)… Wouldn't it be a good idea to have "at least" enough food in your house to feed the family for two weeks?
No need to get into how to do that, because it's a no-brainer. Just get-er-done.
The Means to Cook Without Power
Although many foods do not require cooking, there's nothing like a hot meal during a winter snowstorm. What about heating up that percolator for a hot cup of coffee because your electric drip coffee maker won't function? Or, hot chocolate anyone? How are you going to do all that during the power outage?
Butane Cook Stove
Well, if you have a gas stove, you're already all set. But if you don't, then what? Here's one recommendation (I have one of these – even though I do have an LP gas stove/oven) (Great for other scenarios too).
GASONE Portable Gas Stove
(view on amzn)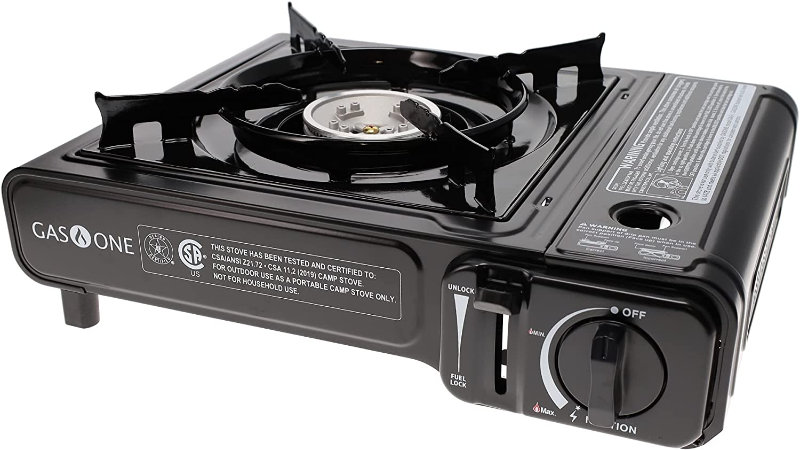 This portable butane stove will do the job. I like the fact that it's flat and will support a heavy or fairly large pot, whereas some other portable stoves are upright and precariously support a pot or pan. This is one of the portable stove's that I own, and I have been very happy with its performance.
Be cautiously aware that any burning flame will put out some carbon monoxide. Butane though, like the one listed above, is safer for use inside. Still, use common sense.
[ Read: Single Burner Butane Stove Safer For Cooking Indoors ]
Coffee Percolator
How many of you have thought of this one… most coffee drinkers use 'drip' coffee-makers to make their coffee – which require electricity. So, to make that cup of coffee with a portable gas stove, you will need a percolator.
Farberware Classic Yosemite Stainless Steel Percolator
(view on amzn)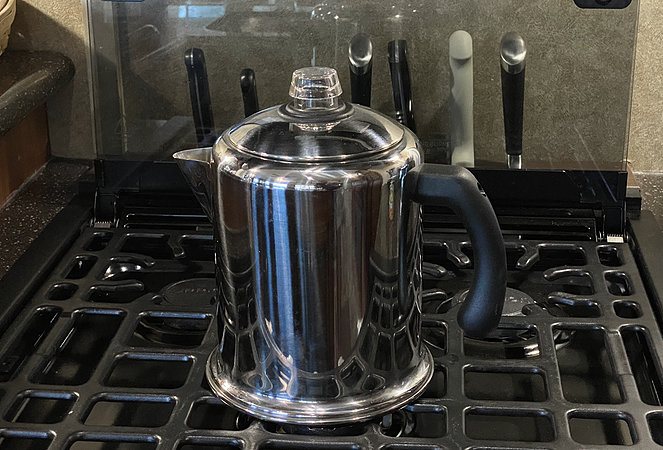 [ Read: 10 Things People Will Miss Most Without Electricity At Home ]
Portable Radio for Weather and News
Here's a suggestion. A dual-powered (AC and battery) weather alert radio that has a built-in AM/FM radio too. That way, not only will you get NOAA weather alerts, but you can also listen to local broadcasts of news and information. This will keep you up-to-date with what's going on out there in the aftermath of the snowstorm and power outage. Important!
I have several. However I do like the Sangean CL-100.
[ Read: Best Weather Radio – The Reason I Switched Back To This One ]
[ Read: NOAA Frequencies and Weather Radio Station Near Me (Maps & List) ]
If you're into radios, here are a few additional articles that may interest you:
Best Portable Shortwave Radios
[ Read: Winter Survival Gear For Your Car ]